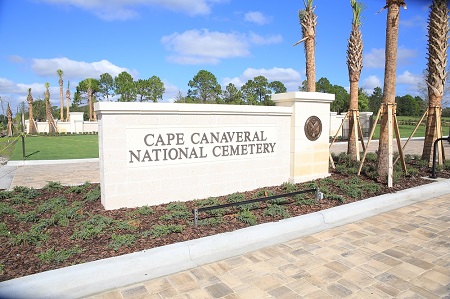 HOURS
Office Hours: Monday thru Friday 8:00 a.m. to 4:30 p.m.
BURIAL SPACE
This cemetery will have in-ground burial space available to accommodate casketed and cremated remains when it opens.
ELIGIBILITY
Burial in a national cemetery is open to all members of the armed forces who have met a minimum active duty service requirement and were discharged under conditions other than dishonorable. A Veteran's spouse, widow or widower, minor dependent children, and under certain conditions, unmarried adult children with disabilities may also be eligible for burial. Eligible spouses and children may be buried even if they predecease the Veteran. Members of the reserve components of the armed forces who die while on active duty or who die while on training duty, or were eligible for retired pay, may also be eligible for burial. For more information visit our eligibility web page.
DIRECTIONS FROM NEAREST AIRPORT
From I-95 take Exit 231, at Highway 1 turn right (south); the cemetery is two miles on the left.
SCHEDULE A BURIAL
Fax all discharge documentation to the National Cemetery Scheduling Office at 1-866-900-6417 and follow-up with a phone call to 1-800-535-1117.
GENERAL INFORMATION
The new 318-acre cemetery in Mims, Fla., will serve the burial needs of more than 163,000 Veterans in the cemetery's service area for the next 100 years.
FLORAL/GROUNDS POLICY
Cemetery floral policies will be posted on the floral storage receptacles located throughout the cemetery. We welcome fresh-cut flowers throughout the year and provide flower containers for gravesite displays as a courtesy. Once the flowers become unsightly, they are removed. They also may be removed for routine mowing or other maintenance.
Limited floral arrangements accompanying the casket or urn at the time of burial can be placed on the completed grave.
Artificial flowers and potted plants will be allowed on graves for a period extending 10 days before through 10 days after Easter Sunday and Memorial Day.
Seasonal Holiday Adornments such as Christmas wreaths, potted poinsettias and other seasonal items may be placed on graves from Dec. 1 through Jan. 20.
To maintain the dignity of the cemetery, permanent plantings, statues, balloons, pinwheels, vigil lights, breakable objects and similar items are not permitted on the graves. The Department of Veterans Affairs does not permit adornments that are considered offensive, inconsistent with the dignity of the cemetery, or considered hazardous to cemetery personnel. For example, items incorporating wires may become entangled in mowers or other equipment and cause injury.
WEAPONS POLICY
VA regulations 38 CFR 1.218 prohibit the carrying of firearms (either openly or concealed), explosives or other dangerous or deadly weapons while on VA property, except for official purposes, such as military funeral honors. Possession of firearms on any property under the charge and control of VA is prohibited. Offenders may be subject to a fine, removal from the premises, or arrest.
HISTORICAL INFORMATION
The Department of Veterans Affairs (VA) purchased the land in July 2012 for $2.1 million.
The initial phase of construction will provide for approximately 17,000 gravesites and accommodate both casket and cremain interments. In addition to gravesites and columbaria, the cemetery will include other features such as a front entrance on U.S. Route 1, a public information center with an electronic gravesite locator and restrooms, an administration building, a maintenance building, a flag pole assembly area, a memorial wall with ossuary and walkway, and committal shelters. Other cemetery infrastructure features will include roads, landscaping, utilities, and irrigation.